It seems despite our best efforts, no one has found a solid formula for love. It's like love is a destination that everyone tries to go to. Those who are there are either too busy being in love or too unsure if they're in the right place to give directions to the rest of us. Another thing is we all fall differently, for different reasons and with different types of people. With so many variables, doesn't it seem logical that we determine them all, figure 'em out and get on with the loving? I was thinking about this as my iPod shuffled in an unfamiliar Taylor Swift song. Why can't we create a decent love formula?
And then it hit me.
Deiiimn,
did it hit me. Taylor Swift should've been a teacher. Her subject? Why love, of course! Presenting, the soon-to-be-patented
Taylor Swift Formula for Love.
Step 1: Find A Guy.
Arguably the most awkward stage, it is also the most exciting. In
You Belong With Me,
Taylor seemingly sings about a guy she likes. Truth is, she's exposing the things we need to form a healthy relationship. (1) You have to be attracted enough to want him.
You've got a smile that could light up this whole town.
(2) You have to be interested enough to care about the things he likes.
Can't you see that I'm the one who understands you?
(3) A little competition wouldn't hurt.
She wears short skirts, I wear t-shirts. She's cheer captain and I'm on the bleachers.
(4) But you have to blow her away.
She'll never get your humor like I do.
(5) You have to imagine a future with him.
Have you ever thought just maybe you belong with me?
(6) And a little stalking wouldn't hurt. A girl's gotta do her research right?
Standing by and waiting at your back door. All this time, how could you not know?
Err, that was a little creepy. On second thought, perhaps we should leave the stalking to Google
*
.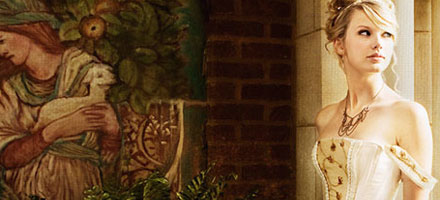 Step 2: Fall In Love.
Easier said than done, I know but that's what you have to do. In
Love Story,
Taylor borrows a few Shakespearean plot lines and goes crazy. Love is never easy and this song tells us all about the things you can expect for this tedious stage. (1) Once you have him wrapped around your fingers, you'll find that love is a two way street. Sometimes, you reach out to him but (here's the fun part), he'll come to you too.
I see you make your way through the crowd and say hello.
(2) It's never without its conflicts but you can count on the fact that unlike the first step, you will not be alone.
Romeo, take me somewhere we can be alone. I'll be waiting. All there's left to do is run.
(3) Just when you feel ready to give up, you get a reminder that though love is hard, it's worth it.
This love is difficult, but it's real.
(4) But then it gets confusing and you have to be strong enough to make sure you don't break up.
I've been feeling so alone. I keep waiting for you but you never come.
If you let that last one get to you too much, you could just find yourself in Step 3.
Step 3: Say Goodbye.
I guess it's all a part of growing up. We all have that one great love that we can't seem to forget and Taylor pays tribute to that with
White Horse.
I suppose the entire premise of the second step often gets out of hand. We fall rapidly and with so much gusto that you start to feel like you're really special. Honey, you're not. You're just one of six billion people in the world rallying for the same thing. Step 3 often begins with that realization. (1) Honey, you're not special.
I'm not a princess, this ain't a fairy tale… This ain't Hollywood. This is a small town.
(2) It helps to focus on tangible things like pursuing your dreams…
This is a big world. That was a small town there in the rear view mirror disappearing now.
(3) …or you could always take the bitter route.
I had so many dreams about you and me. Happy endings. Now I know.
(4) But the sooner you move on, the better. You'll see. Nothing says I'm
soooo
over this than the wind that comes from your big poofy gown as you walk away.
Try and catch me now.
Repeat steps 1 to 3 until you find that heart you can call your home. It will hurt, we all know that but these are just things you have to accept. It's part of life, part of growing up and don't worry because it'll all be worth it in the end. If you meet someone and find that somehow, there
is
no step three, well
teh, kungrrrrrrrrrrrachuleyshuns
because…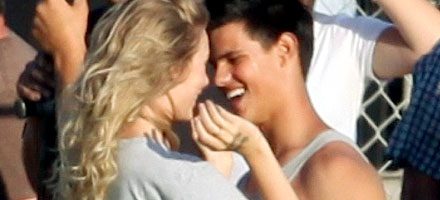 Ending: Happy?
Taylor's quintessential love song has got to be Valentine's Day's
Today Was A Fairy Tale.
With lines like
Can you feel the magic in the air?
and
Nothing made sense until the time I saw your face,
I swear that whole song must've been written on some demented form of a sugar rush. How do you know you're really in love? Well, Ms. Swift gives us these helpful signs. (1) He likes you even when you look fugly. (Usually when you've just woken up and you've got dried up saliva on your pillow and your breath stinks like anything.)
You told me I was pretty when I looked like a mess.
(2) He can do no wrong.
Every move you make, everything you say is right.
(3) The world gets blurry when you're together.
Time slows down whenever you're around.
(4) You can't seem to put your finger on what it is that makes you love him and then he kisses you and it's so clear.
Can you feel the magic in the air? It must've been the way you kissed me.
Have I convinced you? Nope. Didn't think so. I suppose we were never really Taylor's target audience. If you're looking for the perfect definition of love, you'd have to search a little further than that. More than a decade, to be specific. It's a little song that in the early nineties, took a Canadian Kylie Minogue-ish singer
*
into an international superstar.
How curious that in a record known for jaded break-up songs, a gem like
Head Over Feet
can be found. In the song, Alanis Morissette talks about trying to fight that all too familiar feeling but giving up in the end. It consumes you and once you let it, your old life as you know it will be over. The video is also very telling. It shows her singing directly into the camera in an almost awkward extreme close-up. Unlike her other videos, this one had no plot, no fancy editing and no shiny gimmicks. This was just Alanis, the song and her infamous harmonica. I'd like to think they made it that way so that we would be left alone with the ingenious lyrics and so imma shut up now and let you read 'em.
I had no choice but to hear you / You stated your case time and again / I thought about it // You treat me like I'm a princess / I'm not used to liking that / You ask how my day was // You've already won me over in spite of me / And don't be alarmed if I fall head over feet / Don't be surprised if I love you for all that you are / I couldn't help it / It's all your fault // Your love is thick and it swallowed me whole / You're so much braver than I gave you credit for / That's not lip service // You are the bearer of unconditional things / You held your breath and the door for me / Thanks for your patience // You're the best listener that I've ever met / You're my best friend / Best friend with benefits / What took me so long? // I've never felt this healthy before / I've never wanted something rational / I am aware now / I am aware now//
That's love, or at least that's how it's supposed to be. How sad that many of us have been misled. If you're single and you're reading this, don't worry. It'll come. And when it does, you'll see it was worth all the wait. I've said it before
*
and I'll say it again,
anything that is worth pursuing has a possibility to hurt you.
Why else would anyone want it? Until that time I can sing
Head Over Feet
and actually mean it, I'll be waiting patiently with my heart on my sleeve.
Alanis Morissette
Head Over Feet
Jagged Little Pill
BYE FOR NOW!!!
I've come to the conclusion that I need a little break from blogging to focus on other stuff. My life is a mess right now and I think I need all the epiphanies I can get for myself. I won't be closing this blog. It's become such a big part of me that to shut it down would be like cutting off an appendage. Anyway, I don't know how long I'll be gone. Maybe it'll take a day, maybe a few weeks or maybe a year. I don't really know. One thing's for sure, I
will
be back and I'll have a lot more buoys to share with you then.
In the meantime, there are so many awesome blogs out there. It's no secret that the blogosphere is filled to the brim with talent and wit. I started my own
hashtag
(I can't seem to make it work but I'm keeping my fingers crossed) on Twitter for blog posts I find interesting. I'll be updating it daily so I hope you guys check it out
here
.