I said goodbye to my old template today. It's not really old, considering most of my templates stay on for years at a time. I've had this one for
four months
. It wasn't the only thing I changed.
A friend of mine asked me why my online name is pugnosedfreakazoid (or PNF) and why my blog is called pugnosedbabblefest. The story dates back to 2003 when I started getting hooked on the interweb. I was a teenager and self-deprecation was one of my many arsenals. I realize now that (1) I am no longer a teenager, (2) you can't change your Multiply user ID. You either stick with it or delete your account, and (3) when you change your Blogger address, there's no easy way to redirect your readers. Major boo. And so with the concept of a permanent change of online address out of the way, I focused on taking steps to make my blog less self-deprecating (at least at the onset).
I was writing an introduction for my new blog when I realized how much of a city boy I was. I haven't been to the beach in about five years and it seems my whole life has revolved around one city. With a little bit of wordplay, I came up with citybuoy (or how I managed to stay afloat). My weekly posts have started to become sort of like a coping mechanism with the many things I want to change in my life. These little epiphanies have, in one way or another, helped me stay on top of all the chaos that is almost synonymous with the big city.
If you're reading this and I'm somehow linked to your page, don't forget to update your links! If you have a non-Multiply blog and you want to link up, just let me know.
THIS JUST IN!!!
I didn't want my Multiply page to feel left out so I modded this
nice little theme
I found. I've never really done that before and so the only thing I changed is the main image. The design is very similar to my current layout. I just re-saturated and arranged a few things. Over-all, I really like the whole day and night feel to my two blogs.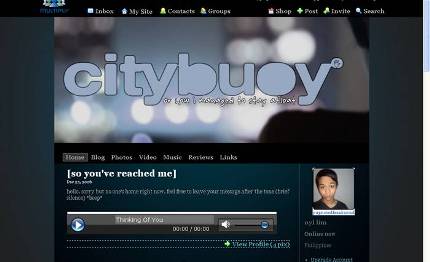 Photo Credit: MCXL Photography
True Type Fonts: [bulldozer] [rabiohead]